omega shepherds omega shepherds omegashepherds omega shepherds omega shepherds omega shepherd
---
Show Quality German Shepherds for Family Protection, Personal Security, Schutzhund, Search & Rescue, Guard Dogs, Seeing Eye Dogs, Professional Dog Training, Stud Service and Pet Quality K-9 friends from Montana at affordable prices.
OMEGA SHEPHERD'S REFERENCES
THERE ARE LOTS OF PHOTOS, PLEASE BE PATIENT , ITS WORTH THE WAIT!"
---

Hi ! Solo wishes you a great Christmas. He is a great dog, very smart! Hope you like the pictures.
We love love Solo, he is a very handsome dog!
---

Here are some pictures of Thor, sorry I haven't sent you any for awhile. I gotta say he is one sweet dog, I love taking him with me every where. He's a really fast leaner and loves being busy. Thanks so much for letting me be the one that got him.

Thanks again !
---
Hi Leah,

I thought you'd get a kick out of seeing some pictures of Mia, now that she is four months and a week old! She is doing great! I just took her to the river for the first time today. She has already lost her first tooth.

I have been really fortunate with finding a trainer for Mia. I started her in puppy classes at 8 and a half weeks old. The trainer just loves her and offered to board and train her during the days when I am at work! It's been so great for Mia. The trainer uses all positive techniques with puppies and dogs, and she has two dogs of her own that are great for Mia to be around. She has had tons of socialization and is afraid of nothing. She is a wonderful dog!

Just thought I'd pass it on!

Hope you are well!
---
The boys are loving her!! Thank you so much

Leah,
It was great to meet you as well and I hope you had a nice birthday. She has been so sweet and we are having fun with her . Thank you for everything!

---
We got our Hannabell from Omega Shepherds from the July 12 (Dax & Artimus) puppies. She has been the best dog for us. She loves to hang out with us, go to work, go for rides, play with her friends, and her toys, she loves ice cream cones, she's just got the best personality and so lovey.

She learned this weekend to rebound the basketball when the boys play so now when she wants to play basketball she'll bring the basketball over to our court and walk circles around it. She brings more joy all the time.

Thank you for our beautiful girl!



---
Hi Leah!
Well it's been a week since we got Fallon at the airport so wanted
to thank you for all the love, hard work, and attention to detail that
you provided to him. I just KNEW you were the right outfit and would
give us an exceptional companion... call it "cosmic guidance" I suppose.
Fallon has bonded with the pugs already and only playfully barks
at our cat Thursday, who is no stranger to puppies the last few years.
The pup has taken up laying at my feet or Annas after he has played a
game of Chase the Pugs! LOL
We just got the order in for the joint and supplements today so
they started them tonight, whatever helps him be all he can be is a
must for us so thank you for that advice as well. I'm amazed how fast
he is learning from walking on the leash, almost fully potty trained
and is alert and learning like a puppy prodigy! I just wanted to say
I am grateful for your commitment to producing
some of the best GSD's around, such as Fallon. You must hear it all
the time but "I THINK I HAVE THE BEST ONE YET!!t" We'll be sending
updates and photos of our totally awesome Dax/Lana world shaker.
..........................................................................................................................................................................All the best!! .......
UPDATE : Fallon about 1 year later !
Hi Leah!
Just wanted to send a couple pics on how Fallon is growing and say that he has been ALL we had hoped for. His head is very clear, he is so smart that training goes very easy once he understands what is being asked. He keeps his nose down and tracks well and is always on the look-out for trouble around the house. I have a few police friends and they all remark on how well behaved and perfect breed standard he is. He is aloof with strangers and follows my lead in new situations.
Just a fantastic companion!
Thanks again!!..........................................................................................
---
It's been 4 wks since Sky was picked up. M says she sent some pics. He has been just great. He keeps hearing he is "YOU ARE JUST THE BESTEST!". What a quick learner. Within a session or 2, he picked up on sit, down, stay, off, rollover, shake hands. He is just great w other dogs and puppies. He looks like he is mauling the kitten, but has the softest mouth. The older cat will not put up w him and just claws his nose if he comes too close. He loves other people and is always bouncing and wagging his tail to their attention.
He is quite the little guy. He is growing so fast. Little Sky is soon to be Big Sky.
Your training program and breeding selection was well worth the trip to Helena. I am glad M found your site.
Please let Heather and Clint know they have been "THE BESTEST" trainers. And let Heather know we will be "very careful" w Little Sky.
Hi to your mother from us
Best Regards & best wishes for 2013 and beyond.


Hi Omega family!
I can't tell you just how much we are enjoying Sky! As you can see, he is growing fast, his ears are starting to stand. He is a joy around other people, he even got a very good compliment from our agility trainer neighbor who said he has perfect puppy manners:). We are really grateful for all the attention and socialization you started him out with, he enjoys learning new things and we will be going to puppy kindergarten next week already. Hope you are all enjoying your start to 2013.
Best regards to all of you

---

This is Fergus at just over 2 years old and he's doing great. He goes everywhere with me and is always at my side. He is probably the smartest German Shepherd I've owned and has the most personality. Which is saying a lot!

Thank you so much!
---

Hello Leah:
It has been a while and I thought I would give you an update on Geist. Geist is a Luke and Sara puppy and she looks just like her mom. She will be 3 years old on January 12th and I just love her to death! Geist has been a great addition to this family and is in perfect health. We had her hips and elbows certified and everything is perfect with her. I have attached a few recent pictures of her. Yes she is definitely spoiled. As you can see she has her own blanket and that is her baby she is snuggling with. Smart for sure as she learned how to open the doors almost like a human. She just has to bat her eyes and she always gets her own way. (smile) I have also attached a cover I made for her baby book.
Thank you again for everything.

---

Julie and Leah,

Thank you for all you do. Here is our first Zeva update! She is now 20 lbs and growing by the minute. She is an extremely smart and independent puppy! She is basically fearless-- which has its moments. She loves car rides and camping and just being part of the family. The second day we had her we stopped by a reservior to take a swim and she went running straight into it and swam around Clay's leg (at 8 weeks old!). She adds hundreds of smiles into each day. Her ears have been switching off up and down but lately they are both straight up listening and ready to play. We love her dearly and thank you for breeding such a great dog!
We love our Zeva and she is doing so well with training. Any where I walk she comes and sits down looking at me to see what's next. We're lucky Clay has time to spend all day with her, and around 5pm she starts sitting by the gate for me to get home. So cute. Yes of course please use the pictures and email on your site, we are so proud of her and appreciative of her in our family. Here's another pic that shows just how attentive she is!

Thank you, and best wishes to you and your family,


---

Hi Julie and Leah,
I think of you often, it is so hard to believe that Nellie is 9.5
years old!
Bill made a video of her when he was learning to do video uploads... it starts with our drive home from Montana with Nellie.
Still makes me laugh. She is an amazing, wonderful dog, we adore her.
Here are a few pictures and that silly video. (it has 100,000 views...
so silly)
Love seeing your family grow.. the children are adorable.
Our best to you both. Will one day try to get back and see your place
again. Cannot image life without a shepherd.

---


Good Afternoon Ladies

Here are some pictures of our Gorgeous Miss Arabella "bella". She has grown so fast and her personality has just blossomed she is so confident, sweet, loving, keeps us laughing all the time and protective at only 15 weeks, everyone in my family has such a soft spot for her.. The other night she went to the back door and started growling, thinking she needed to go out to potty and I just had missed her normal cue to go out. I went to put her leash on her and she would not budge, after a little struggle with her, the blinds and curtains to get it on.. finally I got it… I flipped on the porch light and moved the curtains to the side and there was a man standing on my porch by my sliding glass door. I instantly hit fear stage, as I called the police bella let him know he was not welcome and he needed to leave by barking and growling not once taking her eyes off that porch like "momma I got this" while you call for backup… . He thankfully fled. I am so very thankful that she was there, who knows what could have happened if she was not a part of our family and there that night. My 9 year old Ethan and her are buddies, they play and snuggle together, and are planning on getting into an agility and/or 4-H group. She is such a smart cookie, picking up on stuff so quick. A vet I took her to when I first got her said "now you do not want to start teaching her things now because at only 8 weeks old it will only confuse her" Well…. With my stubborn streak I went home right after that vet appointment and started working with her… hmmm I proved that vet wrong, after working with her for about 15 minutes that day she picked up sit, down and head down (pray), and from there its "school time" every night . And I never took her to that vets office again after that. I think within the next couple months we will step up the training to helping her towards becoming my Service Dog, I think she is now ready for the challenge!! She has such a regal presence to her anywhere we take her she gets everyone's attention and everyone wants to pet her and know where I got such a beautiful dog, they comment on her confidence, beautiful coloring, her loving temperament, how approachable she is, how well mannered ,how advanced she is for her young age... I say it starts with the amazing breeders that we received her from... they started our wonderful journey with love and great breeding practices, picking the right pup for us...... and I have heard on EVERY occasion…. I want a dog "just like her" we took her to her first Rugby game and I think she is hooked on the sport now too. (she loves playing with the rugby balls) and she makes the tough rugby players big softies too… sshhhh though haha. My two brothers and my dad all have such a soft spot for her, she melts when they pet her, and she will tempt everyone into a game of "catch me if you can". She will get her soccer ball and hold her head up high, prance by them and then dart off running until they run after her. Thank you so much Leah and Julie for picking out such a lovely baby girl for us. She has not only become a great family member to us, she has made our family so much closer, she has helped us feel safer, as well as filling our hearts with such love and joy!!!

Leana, Ethan and Arabella "bell"

---
"Our Wonderful Girl! "
We couldn't love her any more, she is so wonderful!
---
Hope you all had a great memorial day weekend! I wanted to pass along some new pictures of Lucy. She has grown so much and is such a good girl! She has settled into our house and routine and is such a great addition to our family.

She is such a sweet and loving dog - thanks again and will keep you posted.

Amy

---

We took her to see my co-workers yesterday at the hospital, she did fantastic. Everyone loved her,,,oh my they were raving about her. I was at the front door and drew a crowd and she just loved it. She was very comfortable among the people, we were very pleased.

Update :
Hi Leah, Mother's Day is at an end and we couldn't finish the day without going to our favorite place. We packed lunch and Rosie and headed out. It is the most amazing place, really. We strolled around after having lunch and as you can imagine people couldn't get their eyes off Rosie, she did very well. I promise that I won't keep sending pictures every day we just wanted you to see that she is doing well
---
Greta is doing great! The boys love her and she seems very happy. She is so relaxed and easy going. She is doing so well with my parents dogs. We take her everywhere with us- the bank, baseball games, etc. She is so incredibly sweet, we love her so much. Thank you!!
---

Hi!
I just wanted to send you a picture of Boston and Shelby that I took a few weeks after I got him home. He is doing so good! Shelby and him are best friends. They are both incredible dogs and I don't know what I'd do without them. Boston just graduated from the puppy class that Shelby did and the teacher says I have the best German Shepherds that he has ever met. Thank you again for both of them - I can't imagine life without them.
Nicholle H
---
"Santa had an early delivery!"

Leah

Here are some pics of my daughter and Lily. She named her lily. We had xmass early due to a special delivery from Santa! She was exstatic and is doing a great job helping with the house breaking. So far it is going pretty well with a few mishaps but we are following the guidelines for the three day process. Anyway, it is all going great and she is a beautiful and sweet, sweet dog. She and my daughter are doing some serious bonding. Thanks for everything!!!!! I will keep you posted.
---
"A Cut Above the Rest"

"Merry Christmas" Leah and Omega Shepherds!

What a "Merry Christmas" I am having with my new pup from you!
I have nothing but good things to say about this dog! He has been here less than 48 hrs. and has already bonded
with me and "latched on" like a faithful servant! Heinrich follows me everywhere I go, inside and out! When outside,
he walks at my left side like he is in heel, and without a lease. He always comes when I call him. Yesterday, he went
for his first out of crate car ride with my wife and I. He lay between us like he'd done it a thousand times and enjoyed
being with us. Last night of course when kenneled, he howled and cried and just wouldn't let up. So....I finally got up
and brought him to my bedroom and he slept on a rug beside my bed on top of my shoes the rest of the night and did
not move. I am so proud of him and his quality, his temperament, and his "structure"! Needless to say, I am a happy
customer and will recommend you. I have met two K9 handlers in the past two days as well, whom is interested because
of the Batu bloodline. Additionally, I have contacted another Master Trainer for K9 Dogs who owns his own training
facility. He teaches K9 Dog Handlers at the South Carolina Criminal Justice Academy and has agreed to help me train
Heinrich. The doors are opening for Heinrich and I and we are walking through them! He and I, at this point, look to
have a very rewarding and fulfilling life together! My wife and Heinrich also have their "special relationship" in this
short time as well. In all of the dogs I've had in my life, which have been many.....and of all the dogs and pups I've
trained, which have been oodles, Heinrich is just a "cut above" the rest. Thank You again for raising such quality
dogs and for sending me one that will make us "ALL" proud!

P.S. I am enclosing a picture of Heinrich and I so that you may see how much more good looking he is than I....LOL!
The photo was made 24 Dec @ 0900 hrs.
---
Leah,

I was looking at your web site the other day and saw a photo of Ranger when he
was a puppy so I thought I would send a more recent shot. Ranger is 2 1/2 now
and an AMAZING dog and we love him to death. We think he is the spitting
image of his dad Luke and what a disposition! He is so smart and he is
hysterically funny, keeping us laughing all of the time. He is such a great
family dog and responds to each of our different personalities. His favorite
thing is playing frizzby with Terry and is my constant companion no matter
what I am doing. It is hard to believe it but we think he just keeps getting
better and better!

Love the Christmas photo on the web site, we picked out Luke right away. Hope
all is well with you and your family, say Hi to your mom for us.
---
........"Kids Dressed him up" ............................ "Handsome Luke-Sara Male"




This summer at the kids soccer game he got hot. So of course his daddy bought a bag of ice and he plopped right down and rolled and licked the ice!


---
Thank u so much! He is my baby!
---
"The First Page of Sassy's Scrape Book"

Sassy now lives in Alaska!

GOD WORKS MIRACLES: (in strange ways)
HOW SASSY,~_CHRISTMAS PRESENT, CAME TO US
One day in the Safeway parking lot while I was loading groceries into my car, a truck parked next to me had a German
Shepherd puppy in the front seat. This struck me as unusual as
the truck had a husky dog logo all over its bed. As the owner approached the cute puppy, I teasingly, jokingly, gave him a
"bad" time about his puppy.
"Your puppy does not look like a sled dog!"
He laughed and invited me over to see his puppy. I COULD NOT RESIST! The puppy greeted me with lots of licks as its owner
went on and on and on and on about what a GREAT dog she was.
"Liberty, is just the best and smartest!" he kept saying as he enticed me to go on line and research the kennel site where he
had purchased "Liberty."(He never addressed that she was not the normal husky sled dog.)
Well, when I got home and told Earle about this experience our love and curiosity for German Shepherds led us to JUST
LOOK! We "LOOKED" and "LOOKED" and "LOOKED"!
The OMEGA GERMAN SHEPHERD site had a bunch of puppies in two big baskets with Christmas decor. It also had a S-6 minute
video with a bunch of fuzzy balls running and playing with little children. All the puppies had on different colored collars. We
"WATCHED" and "WATCHED" and "WATCHED"! Soon a fuzzy ball with a pink collar "twitter-patted" our hearts. Our "JUST
WATCHING" soon turned to many conversations with the site's owners. After MUCH deliberating, we became owners of
"SASSY, "the pink collared fuzzy ball. (Earle chose the perfect name.)
God said: "I am the Alpha and the Omega, the First and the Last, the Beginning and the End." (Revelations 22:12) ~r
interpretation: Omega is the "end" The PARADISE God has promised a PERFECT PLACE! Will "SASSY" be our "LAST"
"PERFECT" German Shepherd? God works Miracles in strange ways: Our "MIRACLE" arrives on December 27 from the
"OMEGA" German Shepherd Kennel in Montana. Hopefully, our best Christmas present EVER!

"A Basket Full of Sassys Brothers and Sisters"

.........."Dax" Sassus Dad..........................................."Sara" Sassys mom

UPDATE AFTER RECEIVING SASSY

I will send you some pictures. The photographers have had a busy day today. Sassy has gone to the door to do her "business" three times in the 12 hours we have had her and knows where the spot in the yard is. Of course, the big "Mother" directs her. They have become fast friends even after Sassy first told Skookum "I am in charge." Amazing. She settled down in her box at 12:00am and slept for 3 hours straight. Woke up......played for a hour and a half............slept another 2 hours...........now she has slept for a few hours..............so I have cap-napped with her. We absolutely are Amazed at her adjustment to all of us!
---

Hi Leah,
I just wanted to give you an update on Cody. We are having so much fun with Cody and enjoy having him around. I just cannot believe he is going to be 10 months old soon. His training is going very well and the trainer informed us he has an excellent temperment. We had some baseline blood work done on him for future reference and he is in excellent health and just full of energy. I have included some photos of him this winter. Thanks again for a wonderful German Shepherd.

Sherri
---

Hi Leah,
Behr is doing great. We love him!!! Just wanted to send you a few pics. He comes out to the barn with me and he is already a barn dog. He just listens so well. I hope you and your family had a wonderful Christmas, and thank you so much for brightening our lives.
Thank you.
Cindy
---

Hi Leah,
I thought I would take a moment while Cody is taking a nap, to send some photos
of Cody playing with his oversized stuffed toy this morning. I really love him
so much. It was so funny when we were at the vets office. The vet was talking to him and he just turned
his little head from side to side acting like he understood him. Enjoy the pictures.
---

Julie and Leah-

Its been 3 weeks since we got our puppy from Omega. So I thought I would update you on how Odin is doing. He has been a wonderful addition to our family. He gets along great with our little chihuahua and our children. He is so full of energy, new surprises, and laughs that we are never short on entertainment! Odin is doing wonderful with learning how to sit, lay, shake, and come.

Again, it was a pleasure to meet you both and to have bought our new "apple of our eyes" from your establishment.
---
Hello Juile and Leah,

This is Jamie, I had adopted my puppy on February 28th from Omega Shepherds. What a wonderful addition she has made to our family. She is still learning and I guess she will be throughout her life. She does faithfully get her vitamins every morning from NuVet. I have attached a letter from Geist and I have also attached some pictures of her. Feel free to use the letter and any pictures on the web site. I will keep in touch and let you know of Geist's progress. Thank you once again for everything.

Sincerely, Jamie

Letter below from "Geist"
July 18, 2010
Dear Juile, and Leah,
First let me introduce myself. My name is 'Dame geben Geist frei" (Lady Free Spirit). I was born the daughter of Omega's Sara, and Luke on January 12, 2010. I am now 6 months old and loving my new family. I get to go to work with my mom Jamie every day, and run and play with many other dogs. My favorite snack is peanut Butter and I have even gotten into a scuffle over an empty Peanut Butter jar. I had it first and wasn't giving it up.
My mom has taken very good care of me. I've had all my shots and my last weigh in was about 2 weeks ago and I was 46.9 pounds. I am of course spoiled beyond belief. Tons of toys, snacks and each night when I come home from work I eat drink and jump right in my mom's bed in the air conditioning and pass right out. Even riding in the car I get first choice of front seat.
I also live with cats and my two sisters. I like to chase the cats around and eat their food when I can. Please don't tell my mom though as she says I'm not supposed to do that. (smile)
We don't live very far from you, so maybe one day when we are going to be in the area we can come and visit you to say hello.
I am sending some pictures of me and you can choose the one's you like the best. It would be an honor to be on your web site.
Thank you for finding me a great home and family, and please give my Mom and Dad a huge hug and kiss from me. There is also one in here for the two of you. Right now I am going to relax on my couch with a blanket and pillow and watch some TV.
With Love,
Geist
---

Leah
just thought you would like to see some pics of our "little"
Brooke (Omega's Guardian Angel). she's beautiful and a great addition to our family.
---
Some of our dogs get to fly 1st class !

---
Hey Leah and Julie,
Attached is a picture of Ruger in Las Vegas. We purchased him from Omega 11/2007. He has been a real blessing to us and he is an awesome protector.
We will be passing through Clancy area July 5 and would love to see your kennel.
Thanks, Kevin and Teresa
---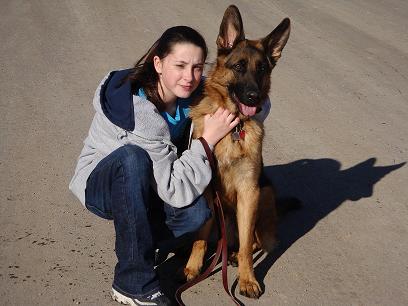 Leah,
I was just on the website and thought I should send you an update on Duke. We purchased him from you in January of 2008. He is a wonderful dog. He is a great pet. We neutered him early on, which probably makes him sweeter. He has never showed aggression. We have a new baby now and trust him completely with her. He loves to lick her feet. He has a huge bark, though. He's a fantastic watch dog. Here is a picture of him with our daughter Madeline. They are inseparable.
Thanks for a great dog.
---

Julie and Leah,
I just got back from Montana to Idaho Falls last night. Shelby is doing wonderful! Her and my dog sydney get along really well and play cute together. All weekend at my grandparents there were other dogs that they ran and played with. Thank you so much, I love her to pieces and couldn't be happier with her!
---
He's totally awesome, curious, brave,
gentle and smart. Thank you so much! He's great.

GUESS WHAT! Last night he laid down, on command, with no treats!!!!! And I've only been working on that command with him for a few days! This is definitely an Omega dog you can proud of, Miss Leah. Thank you SO much for all your time, help, and patience. . I think you are upstanding people that do a great job with their dogs. I am so glad that God has blessed me with getting to be Kota's owner. He still doesn't sleep much, but he is mostly potty trained (often goes to the door when he has to go out), and is learning commands like come (heir er something like that), sit (sitz), lay down (platz), release (like for a toy),, and a bunch more I may not even be intentionally teaching him. He's definitely intelligent, cute, and active. =D Thanks again to both of you. I hope that both Heather and Clint are doing good. :) Danielle
---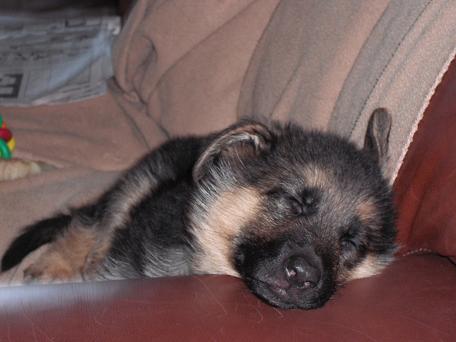 Leah:
I hope all is well with you, yours, and your Mother.
Attached are a few pictures of Klogen....She is quite a puppy with a lot of love to give. She also has no fear in taking on Greta (now 5 yrs) and others large dogs she encounters....She is a talker and yawns louder than any living creature I have ever heard.
Thanks again for breeding such a beautiful puppy.
PS That is Omega's Jade II (almost 12 yrs) Monica's kitchen dog. (photo below)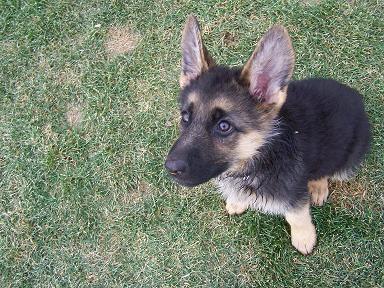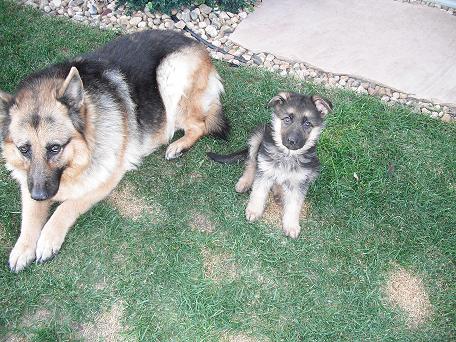 ---
Julie here is some pictures of my beautiful boy. We took him to petsmart and every one loved him. He is so smart we love him so much. We just want to thank you for giving us such a great boy.

Thank you again. Holly

"Update Below!"

Hi how are you guys doing? I just wanted to write you and let you know how Max is doing. He is doing great. I love him very much. . He is a great dog and a good friend. After the kids go to school we both sit on the couch together. We are together all day. Thank you for such a wonderful friend. Holly

---

Hi Julie and Leah,

Just wanted to check in with you and tell you that everything is going great with Ranger. He a wonderful little boy and growing like a weed. He is so smart and happy and we have all completely bonded as a family. He is such an intelligent little fellow and easily knows his name, sit, down, come, and loves walks. Everyone in the neighborhood loves him too and we often hear people talking to him when we are indoors. He has yet to meet a dog that he doesn't like and fortunately there is a 4 month old yellow lab puppy down the street who also loves to play. He has been sleeping through the night for about 2 weeks which is really important for "older" parents. Next week we start puppy classes which I know will be very, very exciting for Ranger. Laura misses him terribly but will be home at Thanksgiving to be with him again.

Thanks again for letting us have him, he is so special.

---

Hi Leah, I just want to let you know how much I love my Izzy "Omega's Isabelle Woof," daughter of Rhett and TIna. She's three years old now and it's beyond great! I get compliments on her everywhere I go, on her beauty and obedience. She goes everywhere (work, school, social scenes and more) and is great. She also is now a service dog "companion dog" since I live in the city. She's taken this new role with such grace. She is the biggest love bug. She's so good with everyone and just plain old awesome.

Thanks so much for breeding such a great dog!

---

Hi Julie,

We named her Jasper, after a great family vacation that we had in Canada. We adore her. She is so cute. She is doing really great. Thanks for everything.

---

Leah and Julie,

Just a quick message to let you know Fairbanks has been enriched by one of Omega's puppies. His name is Kaimo. I'll send a long a few pictures from his 1st 10 days. The boys in the pack have adopted him and taken him under their care. He fits right in, has no fear of the bigger dogs or the cat. After 10 days off I have him with me at work with teh regular 3 that come along every night. He's adjusting well to anything I throw at him.
---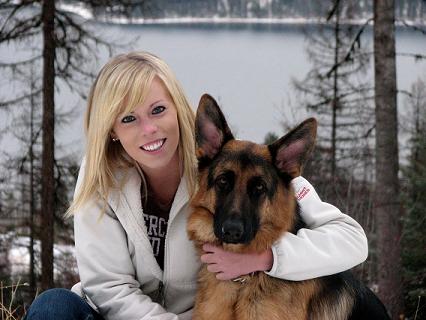 Leah & Julie,
Axel--last puppy in the litter December '07
p.s He is the best!
Judy & Kaley
---

Hi Leah and Julie,

I have been taking Anaka out daily to meet other puppies/dogs and people. Yesterday she played with two Goldendoodles (who have an abundance of energy) and had a blast. Attached are two pictures, one with her new friend Norman, and one with my daughter Daria, who Anaka loves to pieces.

Take care,
---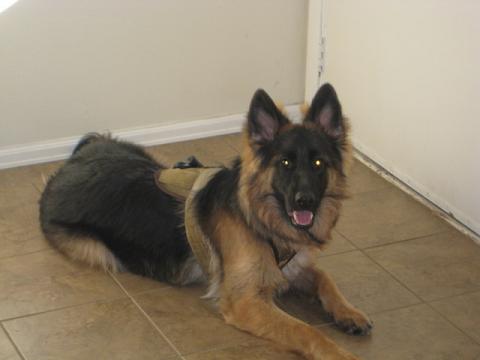 Leah,
Here are some pics of our beautiful girl Jazmin. She is wonderful, I have trained her in OB and she is perfect, and started some air scenting/trailing with her and she shows strong traits. She is great in or out of the house and loves being with us where ever we go.
She is a great edition to our family. Thank you so much for a wonderful friend.
---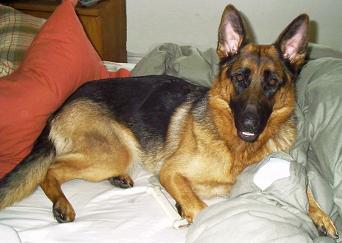 The little girl is our granddaughter born Nov 13 2007 .
They get along unbelievably well .
I fear for any stranger that wants to come in here
and do our granddaughter " Sophie-Rose" any harm.
They love each other .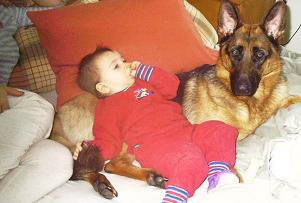 ---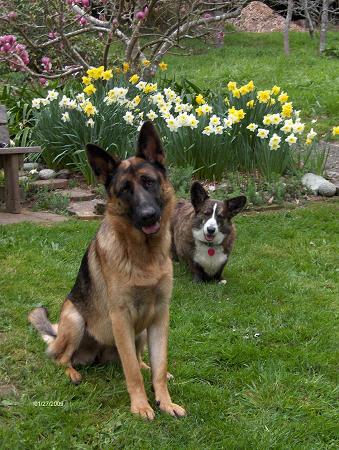 Hi Leah,
I've been meaning to write for a while now and send you some pictures of my female shepherd, Tehya, that we got from Omega last January. She is absolutely beautiful - I get compliments about her everytime we go to town. She has a wonderful personality and is very intelligent, although at 18 months she still has her 'teenage' moments! She has been a pleasure to train, and has brought much laughter and happiness to our family after the loss of our other shepherd. Thank you so much for such a wonderful member of our family!
Best regards,
Linda
---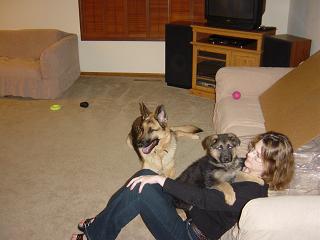 Hello All!
Well, we got Thor Friday night at 9 PM at the STL airport. Things were a bit busy at STL because of thunderstorms but a Delta Cargo handler made a special trip out to the plain to pick Thor up and bring him to us. NICE WORK! Thor handled the trip well.
We really miss Sarge and I have to admit I was a bit concerned we move too quickly on getting another puppy. Thor is such a different personality from Sarge so there is no confusion. That isn't bad either because Thor is also unique when compared to any of our 5 guys and gal , that is awesome too. He should be quite a big guy. He already is nearly 15 lbs at 8 weeks and that is bigger than Sarge was.
---
Leah-

I purchased a puppy from you back in November of 2008 out of Luke & Kirra's litter. I've been wanting to email you for awhile now but we ended up moving from Montana back to Cape Cod, Ma where I grew up and things have just been crazy since then. I'm continuing going to school for my nursing degree while working at a horse barn. Miah is with me 24/7 and has found a love for horses. She is so happy here and loves the beach! I want to thank you so much for such a beautiful dog.

Although she is my first german shepherd, I had always had labs, I would never get another breed. She always has something to say and is my best friend.

I've attached some pictures of her for your references page. Also, I'm wondering if you can tell by the pictures if she's full grown? People tell me that she should fill out more but my vet says there full grown by 1 year. What's your thoughts?

Thank you again very much and hope to one day add another puppy to my family. Tiffany
---

Hello Leah,
Hope all is well with you and your mom, please give Julie our best. It has been almost 8 years now that we came to your ranch to pick up Zorro and bring him back to Calgary, he is still such a joy and just keeps getting better with age! Super healthy and has a great personality along with being a very loving boy. I have enclosed in this e-mail the latest photo of him taken at the park the other day. I thought you might want to see how he'e doing after all these years. Donna and I cannot imagine not having him around, he's turned out to be very special. Anyway, drop us a line if you get the chance and I hope you enjoy the photo. All the best.
Regards,
Francesco & Donna

---
I just thought I would write a quick note to say hello and fill you in on Hans. He turns 4 mos. next week and we are already so impressed! His veterinarian is very impressed too. We haven't done any extensive training yet because he is still pretty young, but he already knows how to sit, laydown, stay, come, heel, outside, leave it, take it, kennel, and eat your food.

He is so good with our two girls. Emma is 2 1/2, and Lilly just turned 1. He is extremely loving and patient.

He also gets along very well with our other dog. Sadie is a working mix breed and Hans takes plenty of notes when she's herding. He spends a few days a week with me at the shop and is very polite to all my clients and their dogs.

We went to the park a couple of weeks ago and when my oldest slid down the slide a couple of times, Hans decided to try it himself. He knows no fear and is extremely confident.

You definitley know how to breed beautiful, intelligent, and extremely versatile German Shepherds.
---

Julie and Leah,

I just sent a few pictures and a video clip of the pup we brought home yesterday. We decided to name him "Jack". We couldn't be more thrilled, he is so much fun and already a part of the family. He rode all the way home without a problem, and actually slept most of the way. He seems to be eating well and going potty on schedule. We tried to introduce him to the crate next to the bed idea last night, but he wanted no part of it. He finally settled down next to the bed on the floor with my pillow and slept until 4:30 a.m. Like I mentioned in the previous email, it is a little like caring for a newborn again. My Mom and Dad live next door, so he is getting plenty of attention.

I imagine that it can be difficult letting your babies go, but rest assured that Jack will be well cared for and much loved! He seems to be adjusting nicely so far. We will continue to send photos and updates as he grows.

Thanks again, and take care,

---
Leah, We sure to adore our girl....Zoe loves it here too!
You breed beautiful, intelligent dog's, WOW what a winner she is.
We just had her spayed, she is doing great, she is my shadow, trying to find an agility team to join. Thanks again for your excellent judgement in choosing the right dog for me.
Love,
Sandy and Zoe
---
Our Beautiful, Wonderful Omega Dog

Hi Leah and Julie,

It has been a very long time since I contacted you. One of your pups joined our family WAY back in April 2000. We named her Ilsa, and she was a plush-coat pup born February 17, 2000 to Ninja and Jaclyn. I know that a lot of folks on your reference list are writing about their new pups, but I wanted to write you and tell you what a dreamboat Ilsa has been for the past 7 years.

Ilsa has always been smart, energetic, and eager to please. When she first joined our family, my boys were 3 and 6, and she was a perfect fit with them. It was a pretty common thing for us to take her to the neighborhood playground, and she would be climbing the play structure with the boys, going through tunnels, and even (until she got too big) going down the slide. As she and the boys got older, we added a trampoline with a safety net to our backyard, and she continued to make herself part of the game. She'd jump up on the outer edge, onto the pad that covers the springs, and she would do laps around the enclosed trampoline while the kids jumped. They thought it was the greatest and funniest thing ever!

Her obsession now is playing ball, and she will play with virtually any size ball she can find. I've even caught her picking up marbles and tossing them for herself to chase! If we could sign her up, she'd be the best goalie my son's team has ever had. Her big game is to bring the ball and drop it in front of us so we can kick it for her -- and it is HARD to get it passed her! She is so tuned in to the littlest of cues -- if you shift your weight even slightly, she adjusts her position so she can field the ball. She'll also field rubber balls out of the pitch-back in our yard, and again, it is hard to get one passed her. She's so ball obsessed, she even broke up several games of croquet last summer, because she kept fielding my croquet ball when I'd hit it. The kids and I laughed so hard we were in tears.

This past summer, she didn't jump up on the trampoline, but she would put her ball up on the pad and wait for one the jumpers to kick it for her. We sometimes think she'd play this game until she dropped. She will bring it back to the same spot every time, and if she's placed it too far from the safety net, she'll re-adjust it, so they can get a good kick in. I think her best day last summer was the day we hosted my son's little league team, and she had about 15-20 kids who were willing to play fetch with her for hours on end.
She is as gentle and sweet as she is persistent, and we have watched her win the hearts of kiddos who are at first scared of a big German Shepherd. In the end, they always end up hugging her, petting her, kissing her, and thinking she's the greatest dog ever. WE THINK SO TOO!!!

About 2 years ago, we were still in our smallish house, but were really ready for another dog. We knew we couldn't fit a 2nd Shepherd in our space, so we got a little guy -- a schnoodle, who we named Laszlo. Even though he's a reasonable smart dog, we haven't actually had to teach him much. He just follows Ilsa, and honestly, I think she's taught him everything we needed him to know. He is not quite 20 pounds and Ilsa is about 85, but she is such a honey ... they will be playing and wrestling, and she will often lie down and let him climb all over her, so he feels like he has the advantage. She's so sensitive to his male ego! We've seen her do this with other little dogs in her life over and over. Her doggie social skills are impeccable. Even our cat, Milo, is in love with her, and she is very sweet and gentle with him, even when he's being a pest and rubbing himself all over her.

She is a beauty, and people comment all the time on how beautiful she is, how well-behaved she is, and of course, how much fun she is.

About a year ago, we moved to new house that is in the same area, but with MUCH more space for running around and, of course, having big dogs. We now have almost an acre and a half, and because of that, we have already been thinking about getting another Shepherd from you sometime in the next few years. We have loved her so very, very much as a family dog, we can't imagine loving another dog like we love her ... but I also know that we will, especially if it's another Omega Shepherd.

OK... here are pics of our beauty ... enjoy, and thank you so much for your wonderful breeding program. We are SOOOOO looking forward to bringing another one of your dogs home!


---
Ruger is doing great. He responds very well to his training, He has a lot of spirit and CLASS! (Photo above Ruger is about 9 weeks old)

UPDATE !

Leah/Julie,

Here is a picture of Ruger at 18 weeks. He is doing great. He has a lot of spirit and is showing signs that he will be very protective. I can see the likeness of Luke. Thanks for picking him out for us, I don't think you could have picked a better one.

---
Hope everyone is well and I bet looking forward to Spring in Montana.
Here is our Gretta again. As you can see, she is growing into a beautiful girl,...check out those gorgeous ears!! By the picture, you can obviously see she is the "Queen" around here and she knows it. We get so many compliments on her all the time and want to know where we got this beauty.
Gretts runs loose on the ranch now, going back and forth from house to shop...checking on us often. She is such a good girl, knows the boundaries and comes when called.
Most times she is a big goof-ball and makes our sides-ache laughing at her, yet she has a serious side to her too, especially when she is on guard-patrol (usually at night when I am alone and Bruce is at work). Alright, I admit it,.. our girl is just too cool !!!
I hope we can stay in touch as I want to get another dog from you later (a year or two),.. maybe a young male for Gretta.
Take care and email me when you have the time (you or mom) ...would love to hear from you.



---
Dear Leah and Julie,
I can never thank you enough for allowing me to have Thor in my life. You took the time to let me tell you about my life and why I wanted a German Shepherd by my side, I never dreamed that day you would actually have a puppy that would be such a perfect fit.
Thor is absolute perfection! He is everything a German Shepherd should be – confident, with good nerves, friendly, eager to please, good with other dogs (even our fiesty 10 pound pug) and loves his work. He is known as the "super star" at obedience class. At 5 months of age he was able to be off lead. He is always ready for protection work even though he is such a young dog. As wonderful as he is in protection and obedience work he is equally gentle and caring with our 4 year old and 2 year old granddaughters. He actually curls himself around the 4 year old and puts his head on top of hers with a big sigh while she is napping.
I asked you for a big "mush" but yet one able to protect. That is exactly what you sent me. He is beautiful with a big square head, lush bushy tail and lots of black satin looking fur. A real head turner !
About a month ago I was alone one evening. Our regular dog walker (Thor has known him since he was 12 weeks old) who comes when my husband is late or out of town came to the bottom of the stairs to call the dogs. All 5 dogs ran down the stairs to greet him. Thor stopped about half way down, turned around and came back upstairs and stood by my side. VERY impressive for a dog so young!
Thank you, thank you, thank you for allowing Thor to become part of our family. Because of your kindness, superb breeding and Thors help I am whole again.

---
Hi Leah,
Just wanted to let you know we named our boy OMEGAS CRACKER JAX!!!
I wasn't sure any pup would be on the same level as Thunder, but Jax is one very AWESOME pup!! He is just so intelligent. Honestly, he picks up on things so fast!!!
He can sit, stay, platz, high 5, when you say here, he comes so fast then right before he gets to you he does this jump straight up in the air then sits so close in front of you. one day I will get it on video and let you see. We're starting to teach him to such and fuss. We havent taken him to the club yet. Dave wants to work with him more and then show him off. And this pup never takes his eyes off of us. He is so aware of everything.He already knows where the food is and when he's hungry he'll sit by the cupboard door and if you ask him what he wants he'll turn and look right where the food is then look back at you.Its hard to put into words how much we love this little guy and how to describe how much we notice how smart he is, its a lot of little things, plus he's incredibly GORGEOUS!!!! I think it's a combination of your breeding plus how you work with your dogs, but you are head and shoulders above the rest and on a level all your own. Thanks again, and God bless you both!!! Give your mom my best

---




Dear Julie and Leah,

Here are a few pictures of Tina in her new surroundings. She truly is a great dog and we believe that she has adapted very well to her new home. As I mentioned on the phone, she sleeps next to me on the floor and makes it through the night with no problem. Jane thinks that her relationship to me is a great illustration of worship, i.e. that she "worships" me. Undoubtedly, that is the kind of bonding you enjoyed with her as well.

So, the bottom line is that all is well - we are thoroughly satisfied with Tina. She certainly is a wonderful example of your excellent training and breeding program. You can count on us for any kind of endorsements you may need.

Cordially, Warren and Jane Brown

---
I've never had so many compliments on a
dog's personality before. He is so friendly with everyone and very
excited to meet new people (in the house) but then calms right down
after a short while. Outside, he is more keen to search and smell !

He has been a great addition to my life. Thank-you.

---

Attached are pictues of Porscha I took yesterday. I wanted you to see how lovely she is becoming. Although I'm sure you must hear this all the time...she is just wonderful. And I feel so lucky to have her. I am thankful that you kept my name and didn't give up contacting me - even though at times, I thought I might never be able to acquire a pup from your kennel. She is almost 6 mos old now and is really quite a lady as you can see.
I just thought you'd like to see how she is doing. Hope things are well with you both in Montana !

---

Dear Leah,

Thank you so much for taking the time to talk with us this eveneing. As promised, attached you will find pic's of our beautiful baby girl Tana-- we can never thank you enough for her! When we took her to work with a trainer here he was very impressed with her and her pedigree because he goes over to Germany and knows many of the dogs in her pedigree - personally. He told us that she one of the most beautiful German Shepherds he has seen in 30 years!

Kind Regards,
Tom and Danielle


Puppy below is a male they bought from us several years after buying Tana!

Dear Leah,

Thank you again for this beautiful baby boy! He's so much fun. Tana's growing to love him each day. I will fwd more pic's soon. We're still working on a name for him....although we're kinda leaning twards Lakota (High Wolf in American Indian). He's just so cool...he needs the perfect name! :-)

~ Danielle

---

Dear Julie and Leah:
December 26th was a very special day in our household. It was our boy's second year birthday. Our boy, of course, is the wonderful Gunther/ Tory male puppy that you sent us nearly two years ago. His name is Gunter von Maximus Desimus Meridius. Gunter has been a true joy. He is constantly getting comments on his confirmation, handsomeness, character and demeanor. Although we have not titled him, he has been through all of the Schutzhund training and performed in the top of his class consistently.
Gunter is a remarkable being. Beautiful, intelligent, strong, energetic, well behaved, protective, fun and oh, so loving. He gets two walks a day--and loves them. He loves the water, the mountains, the desert, the snow or just being with us. He has a very strong personality, and yet is gentle and affectionate. He sleeps with us every night and usually by morning has snuggled up right in between us. We have given him all the love and attention that we have been capable of giving, but we have received many times that back from him.
We have taken him to three different vets in our area--each with a specific forte in their practice. Each has said that he is the finest example of the breed that they have ever seen.

Your breeding program is second to none. Thank you for finding us the perfect dog for us.
All the best,
Bob and Diane Byman

---

CONGRATULATIONS CLAY AND MARIAH !!

Mariah is doing incredibly well with her training and is well on her way to becoming a fully operational member of the search team.

Clay lives in Yellowstone County near Molt, MT, and enjoys training with Mariah and his wife Donna at home. Clay is a Wilderness EMT and is also a volunteer with the Molt Quick Response Unit (QRU). Lately he's been training regularly with volunteers from the Billings West High School in order to get Mariah and himself prepped for the operational dog test.

We are so proud of her!

---

Hello Leah,

Here is a picture of Thor at 10 weeks. He is now 12 weeks and is working on heeling. He knows how to sit, come, and down. What a wonderful pup he is. We are so "in love" with him.

He is all that you said and more. Good luck with Tess and the Agility training. We will check it out on TV. Say hello to your mother.

Thank you for all your help.

---


She is a wonderful and loving girl and we couldn't have asked for a better dog! I moved out to 31 acres and she just loves it out here. Recently, she has befriended a baby beaver and she checks on him every day...she sits and waits for him. I have a 6 month old daughter named Neve and Tana is just great with her.

Thanks for a great dog and babysitter!!


---

From the day we picked him up at your ranch we knew Zorro was special. He was so poised and alert on the all day car ride home. Zorro has passed obedience classes with honours. Strong prey drive, composed, protective yet a friend to all who approach especially children (He loves kids) Very social with other dogs, super healthy. People always comment on how stunningly handsome Zorro is, and want to know where we got him. Congratulations Julie and Leah on your excellent breeding program. Zorro is the proof for us!

---

Marco and Odie @ 1 year---------------------------------Marco and Heidi @ 4 months

Rexxi @ 4 months

We have been quite busy with the new additions to our
family!! They (Rexxi, Heidi and Odie) are all doing SO WELL!
What an amazing group of dogs - we get compliments every day, get stopped on
our daily walks... Rexxi is so well trained - on the other hand, we call
Heidi "the pesky one!!"

We are so proud of them all! The brightest, the most beautiful, the
most loved German Shepherds ever ...

Love to all of you!!


---

My Partner and Family Member - Spike"

His temperament, intelligence, and his love for work is incredible. Not only is he my best friend but he is my partner. At 115 pounds and his bear like plush coat no one has challenged him and he has saved my tail a few times with nothing more than his presence.

Also as a note to Spike's personality he lives in a house with me, my wife, 5 kids, 1 all black German Shepherd, 2 rat terriers, and 2 cats. He loves us all and treats the kids and small dogs as if they was his own children.

Thank You
Bill & Becky


---


Just wanted to let you know that yesterday Gunnar successfully passed
his BH at the Anacapa schutzhund club. At 19 months old he was the
youngest dog to pass. He has really responded to the schutzhund
training and has turned out to be quite a remarkable dog. I've included
some photos so you can see how handsome your boy is.


---

Sorry it has taken awhile to give you an update on our
new girl Freya. It has already been 3 weeks since we picked
her up at the airport! Freya handled her transport
extremely well.....it didn't even phase her a bit. She was
SO happy to see us! She bonded to us and Kodiak very
quickly.
The next day we took her to her first obedience class and
everyone remarked how beautiful and well-mannered she was
for her age (no doubt a result of all your hard work Leah!)
She loves "play" time with the other pups in the class and
is very smart. Her bold and courageous nature allows her to
tackle any task given to her with great confidence. We took her over her first "A" frame on leash and she tackled it
like a Marine in training!
Both my husband and I want to thank both you and your mom for all your help, patience and many e-mails during the
selection process. We want to thank you again for allowing us to visit your ranch. We greatly enjoyed watching your
dogs work in agility that day. We didn't want to leave!! ------------------------------------------------------------------------------------------------------ -----You knew exactly what qualities we wanted in a dog and Freya fits the bill! Everywhere we go we get compliments on
her looks and temperament. Your love and dedication to the breed is very evident in all that you do. We will keep in
touch to update you on Freya's progress.

---

Hello Leah,

I hope all is well. We wanted to give you an update on Omega's Thor von Bauer. He is 11 months in the attached pictures, and just had his " First Birthday". We wanted to tell you a story about our baby. A few months back Thor and mom went to get the mail as usual, mom noticed Thor sniffing the air, mom was not paying much attention when low and behold another adult male dog was running from across the street. Without hesitation Thor positioned himself between the male dog and mom. With a "Lion's" roar Thor stood his ground and protected mom. I must say Leah, this is one out of many instances that Thor has proven time and time again his natural courage, and loyalty to his family. We love our baby!!

Sincerely your lifetime clients,

Tandy, Michael, & Thor




---

I know it took a while, but finally here are some pictures of our pup!! My camera wasn't working so I missed a lot of good shots growing up. He is doing really well, he is great with the kids and loves to play. He stands guard at the pool and when it sounds like one of them is in trouble he is ready to help. I will take more pictures and forward those to you.

Thank you! We are very happy with our (not so little) Zak. He is a great addition to our household and is a very smart and beautiful dog.

---

Just a few photos of Spike at eight months. He has truly become a "working" dog, as Josh takes him to work every day to help with his Bail Bond business. He is social, yet protective when needed. He has become a neighborhood favorite with the children and he even slides down the sliding board with them! He is fearless, and truly has become our best friend. After the loss of my last sheperd, 3 years ago, I never thought I would own one again. Many thanks for renewing my love for this breed, and the endless loyalty & friendship it brings. Spike is an amazing friend, and he has all the characteristics of the breed that every owner should expect in a well bred Sheperd.

I am sure all of your owners would agree with me! Thanks again Leah. Joanna and Josh

---

Hi Leah, He is the most gorgeous shepherd i have ever seen, and I have seen alot. He just turned 6 months and weighs 65 lbs. He will be a big and beautiful dog, everyone that see's him just raves about him. You picked me a winner . I love him, he is going to be great. His disposition is perfect and he is an easy learner.

---


Gaia is a wonderful dog, and perfect for my family. She gets along equally well with small children, teenagers, and adults, as well as other dogs whether big or small. I'm attaching some photos of her with my daughter's lab and Newfie, both of whom are Gaia's best friends. Every Saturday I take her to the outdoor market where dozens of people and dogs all want to say 'hello' and ask questions about her breeding, how old she is, what her name is, etc. etc. She is a very fast learner and in addition to "sit" obeys "down", "heel", "come". We're working on heeling according to your training program and she's doing well. I can't believe how smart she is. She barks when she hears someone at the door, but never bites, nips, charges, or jumps up. We all -- that includes my daughter and her entire family, my other children,-all my grandchildren, and friends--adore her.
-------I just cannot thank you enough for this superb German Shepherd.
---

Hi Julie and Leah!

I was looking at some of Spritz's papers today and its hard to believe that she landed in my life four years ago. You guys picked the right dog for me and she is one of the most unusual animals I have ever owned. Spritz initially lived outside, but soon won her way inside and now sleeps beside the bed.

She is protective without being dangerous. In short, she is smart enough to tell the difference between real trouble and anything else.

In practicing trial law for many years I have seen the result of unsafe and unpredictable animals. Spritz has great courage, but she also has a heart of gold. She really likes kids and has taken care of a stuffed animal toy for several years like it was a puppy.

Spritz has a knack for catching on. She obeys commands in both English and German, but more than that, she understands the things you say in normal conversation. She can spot a McDonalds at 300 yards in any direction in any town and likes to go through the drive through for ice cream. If she overhears the words "ice cream" she goes to the garage door and waits. She watches the clothes I wear and lays by the sofa and waits if she sees me in a coat and tie. Spritz doesn't go to coat and tie places! If she sees me in jeans she knows we're going outside and waits patiently by the door.

When I became unexpectedly ill she stayed by my bedside for several months while going outside very little. Spritz has an attitude that I admire. I believe her character is the result of Omega's breeding program. .You are breeding animals that are in your home as well as in your kennel. The result has been unusually intelligent and outstanding animals like Spritz.

In the middle of crises Spritz is cool as a cucumber. We came upon a traffic accident and Spritz, instead of bolting out of my open car, calmly obeyed a stay command. She watched everything while maintaining continual eye contact with me. When the highline next door shorted out sending sparks high in the air (attracting several fire trucks) Spritz calmly waited in my house on a stay command even though the door was left open. Its like she just knows what to do and when she doesn't she immediately obeys any command given her. On the other hand Spritz senses real danger and stands her ground. I have no doubt she would give her life willingly to protect those close to her. She has never given me any reason to distrust her in any situation.

The amazing thing is that I don't know a lot about training her-- the intelligence, character, loyalty and bravery are just inside of her. I think anyone who has an opportunity to buy one of your dogs is fortunate. You guys offer great German bloodlines and special animals. Spritz functions at an extremely high (sometimes almost human) level of comprehension and understanding..

My hat is off to you as one of the best kennels in the United States.

Spritz the "Wonder Dog" at 4 years old

---

She is an awesome girl, like part of the family after only
a few months, I never thought I would feel so comfortable leaving my
wife and children home alone. Jacky has proven herself over and over
again with her protective instincts and motherly behavior around the
kids. Thanks again for working with us, you've gone above and beyond
in placing the right dog with us. Thanks again!

---

I now understand what is meant by "quality".
My, my what a beautiful puppy - big boned,
strong prey drive, magnificent in every dimension.

Thank you for sending us a wonderful puppy!

---

I Love him so much. He is like a big loving teddy bear.
He has brought so much happiness and love into my life. He is definately the male shepherd I have been looking for. I have a female puppy that is 4 months older than him and he has such respect for her. And he stands by me if she decides to be annoying to me, and barks at her, and stands in between us. What a Gentlemen!! I am so proud to take him with me wherever we go. Everyone makes comments on how beautiful he is. And I always brag at how I got him from a very good breeder from Montana. My husband is a sargeant for the New York State Police. When Aiko gets a little older my husband will take him to the Albany New York State Police Airport. My husband has suggested him to become a part of the K-9 Unit. I will not allow that. I will not allow my little boy to live like that. I forgot to mention his age. He is now almost 8 months old in this picture.

He is going to be such a BIG beautiful boy.


---

Good evening.... We absolutely love Thor...he is so special !

He has learned something totally special, and this on his own. He will take us by the hand and lead us where he wants us to go. His favorite place is to take us to the fridge, he loves cheese, ham and roast beef. When he takes us there he gets a treat. Also the other night he lead us to the door. We let him out, he directly went out and went to the bathroom and came back in. He is one extremely smart dog.
Thank you again. He is being cared for very well !

---

Thank you so much for "Angus". He is awesome! Already showing so much intelligence and drive…quite the little scrapper he is…. He is settling in nicely. Boys and our golden retriever, Emma, love him and are getting along great. He is eating well and house training is going fairly smooth (just a few accidents on the carpet which is to be expected) We love him and will take good care of him. Thanks so much for your service.




You made two little boys so very happy when you sent this puppy.

I am sure they will have years and years of fun together!

---

My Little Princess

I just wanted to tell you how happy I am with my puppy. She is so full of life, and so much fun (and she seems so intelligent, but I'm sure all new parents say that). I've named her Keiko (which means "Adored One" in Japanese). I will call you to tell you personally how happy I am. Thanks again.


Left : Keiko at 8 weeks ------Right : Keiko at 6 months

---

We thought you would like to see how "Lucuis" is turning out. He has filled a void in our home with absolute joy, and given his "Big Brother Niko" a friend to play with.


He's wonderful! Thank you!

---


Another photo update from the Smith family. Lucy continues to amaze us everyday. Training is going well. Her willingness and drive to work and her ability to learn so quickly has amazed even the trainer. She has far surpassed the other German Shepherd pups her age that participate in this class. We are going to try herding classes soon. I think she will really accel at that as well. So - YES ... she is the perfect dog! Hope all is well. We'll keep in touch.


---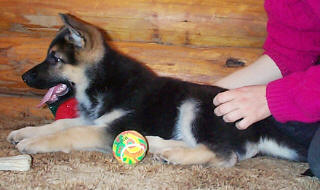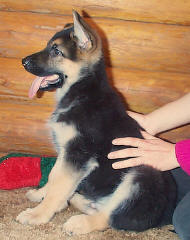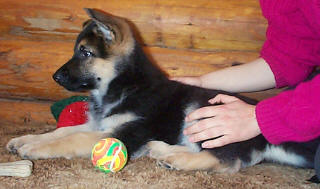 Photos taken at 8 weeks
Congratulations to Dr. Dick Nankivel on his outstanding progress with Ruger!
UPDATE ON RUGER'S BOMB DOG TRAINING AT 10 MONTHS OF AGE
Hi Leah/Julie, Here is a synopsis of Ruger's Assessment.
Ruger (10 months) passed the final assessment phase
qualifying him to enter the "Bomb Dog" Explosives
Training Program. Dr. Dick and Ruger will be trained as
a team by two (2) of Ellsworth Air Base Trainers, who last
year were awarded the "top trained dog" of all Air Force
Bases. Training begins November 15th and both will be
tested by a National Certified Examiner from the North
American Police Work Dog Association. Upon successful
completion, they will be a Nationally Certified Explosives
Team. Ruger was highly praised for his drive, awareness,
Intelligence, obedience and disposition. Very few dogs
of this age qualify for such an intense training program. Final
testing will be in the spring. Good job with training Leah. What a dog.
The Sargeant assessing Ruger wanted to take him home.
Will keep you informed as we progress. Cheers, Dick Nankivel and
Ruger , Fargo, and Paulette. Go celebrate.
"What an Outstanding Kennel."

---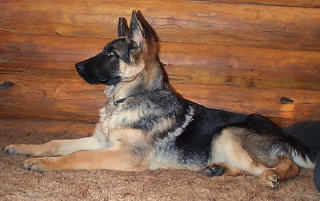 "We finally met our boy at 1:30am.... He made it in just fine. Oh my is he ever beautiful! I am overcome with how awesome he is. Leah you surely are a gifted young woman and I thank you for all the time and effort you gave to Joss. He is the most intelligent, Loving, Calm, Happy young dog I have ever met. Julie Thank you for picking us to be Joss's new parents. We will love him as much as humanly possible. God bless you all and we'll be in touch and your welcome to call us anytime. Someday we'll get a female from you so Joss will have company. "

---

Senta has won 1st Place last november in puppy class in the conformation ring.
I am a helper/handler for the local Schutzhund club, and am training her for that.
She loves the training, and hopefully I can get her titled soon.
I love her to pieces… She's my baby….


---

Emily was purchased to be a seeing eye dog for her new families son - he is only 8 months old right now but they wanted to get her so she will have time to bond with him and the family before being sent off for the offical seeing eye dog training. Her new family picked her up here at the ranch and she immeditaly took to the baby and their 2 year old daughter - she would not even take her eyes off of them. Everyone knew she was the perfect dog and they took her home. They called me the next day to let me know how she was doing. They had a very long drive home and had stopped at a rest stop, the kids were in the van and a man appoaced the van and Emily growled and would not let the "stranger" approach the van or kids! She had bonded that quickly...... she also became very protective when a stranger in a bulky suit went walking by. And she gets very upset when the baby cries and runs in circles and just doesn't know what do to until someone pays attention to him!

WAY TO GO EMILY ! AND GOOD LUCK AS A SEEING EYE DOG!

---

They are inseperable! We can't thank you enough!"

---

"Thor over looking the sea at his Caribean home!"

We are really enjoying him he is very smart and already very protective of us and his home. He is learning commands very well and loves to be with us. He come to work at the radio station at least 3 times week but seems to be happiest when he is sitting on the patio looking at the ocean.

---

"He is the greatest and smartest pup of all time!
---

"As you can see from her pictures she is (in Irene's words) the most beautiful and wonderful puppy in the world! She has incredible charisma, an absolutely sterling temperament and a sweet loving personality that lightens our day and endears her to our family and friends. She is bright and inquisitive with disarming femininity, uncommon grace and a quite reserve, yet, in play, she is aggressive and tenacious with tireless unrelenting drive. She is eager to please, quick to respond and always willing to obey without complaint or defiance; an ideal companion, a pleasure to be with and a joy to come home to. She is beyond our most optimistic expectations and we thank you for her from the bottom of our hearts!"
---

"Thank you for all your help & advise with 'Bianca' if I can ever be a reference for you please let me know."

---

"I must tell you about our vet check. We took Storm in the tuesday after we arrived home. Our vet is a quiet and rather conservative young doctor who is not much for words. His comments on Storm were, "This puppy is perfect - heart, eyes, teeth, bite, weight, bone structure, everything!"
---
"Zak loves all Natalies friends as they all had to come see the new pup. Zak's perfect!"
---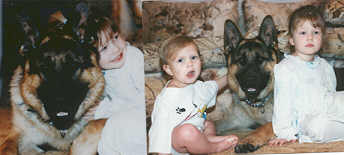 "JR is doing great and we love him very much. JR and I start obedience training next week. My girls just love to play ball with JR. We are very happy with our newest addition to our family!"
---

"Just a few lines to let you know how 'Bruno' is doing. He is an exceptional pup. He is virtually house-broken and completely boat-broken. His disposition is great. He loves people and is fearless. He is into everything, but not destructive.

"Bruno has adapted well to the tropical climate. His vacation life of beach and sailing seems to be agreeing with him."
---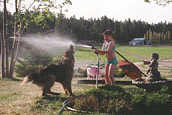 "He loves Haylie and when she is outside, he goes with her everywhere, which is exactly what we wanted him to do. He loves playing in the sprinkler and is energetic and happy and gentle with Haylie! We all just adore him!! Thank you, Julie...we were fortunate to have found you and your wonderful dogs!! "
---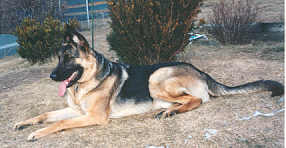 "Here is our "Statesman" Fargo at 13 months.
Now weights between 110-115.
Do they get any more handsome/stately
than this boy?"
---
"We could not have made a better choice

and THANK YOU for Cody, he is our baby."

Quote from puppy...

"This is my life with my little country boy, Arron.

He is only five and I love him!"
---
"Sits/stays and heals on a leash. Fantastic dog.

We love her dearly. She sleeps at the foot of the bed.

Thanks again, we are happy & very grateful to your

commitment to quality breeding and maintaining

the quality of the breed."

............photo on left 4 years later...........

---

"Here are some pictures of Kyle and his new puppy,Omega's Sara. He has really been enjoying her alot.They are together all the time. She follows him everywhere!"
---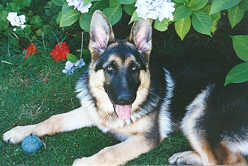 I couldn't resist sending the enclosed pictures of our handsome young fellow, particularly the latest one (5 months) because, as I recall, he looks so much like his mother. "
---
"He is great! I am looking forward to working 'Denver' in protection training once he gets older. Thank you again for such a fine, great temperment, wonderful personality, and just beautiful dog!"
---
"Here are some of the pictures of the beautiful, well-proportioned Zeena. She is now in training for Schutzhund titling. We are very happy with Zeena."
---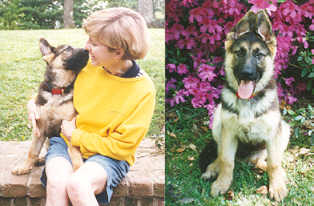 "She is Wonderful!"
---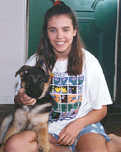 "She sure has bonded with the kids. I can't tell you how glad we are in our decision to get one of your shepherds. We feel fortunate to have her in our lives. She is everything we hoped for and more. Thanks again."
---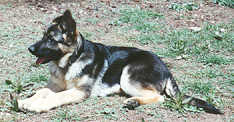 "Here are some pictures of Jake. He has gotten so big in so little time. He is part of our family.
We love him dearly. Jake is doing wonderfl with his obedience."
---
We are in the process of updateing this section.
We been getting so many wonderful letters and photos. THANKS to everyone and we will get this updated as soon as possible!
---
For Additional Information on Omega Shepherds call Julie at (406) 443-0477 or click below:
[index page] [studs] [foundation females] [puppies] [young adults][about Omega Shepherds]
[teen page][trained adults] [references] [upcoming litters]
---